River Alliance of Wisconsin
Event
Title:

Flex your Mussels on the Chip (Eau Claire)

When:

08/25/2012

Category:
Description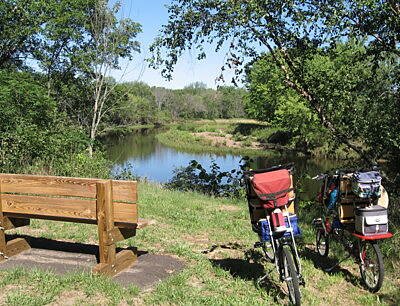 First, we'll warm up our muscles—quads, gluts, and hams—with a leisurely 12-mile bike ride on the scenic Chippewa River State Trail, paralleling the Chippewa River from Eau Claire to Caryville. At Caryville, we'll meet Lisie Kitchel, an aquatic ecologist and expert in mussels—wartybacks, pocketbooks, and fatmuckets—with whom we'll cool down in the river while "pollywogging," collecting actual mussel specimens for identification. Come learn about these fascinating and ecologically important river critters, and never look at them the same again!
Where: Begin at Carson Park in Eau Claire, end at Caryville.
When: Saturday, August 25; 9 a.m.
Cost: $25
Details: We'll meet and drop off bikes at Carson Park in Eau Claire and then arrange a shuttle down to Caryville and back. A state trail pass ($4 day pass, $20 season pass) is required for cyclists 16 and older; passes are available on-site, so bring the appropriate amount of cash. Also bring your own bike, swimming apparel (including water shoes/old tennis shoes), snorkel and mask (if available) sunscreen, towels, and water.
Cancellation Policy
We would be happy to refund your registration fee if you need to cancel up to 72 hours before the event. If you cancel within 72 hours, we are unable to refund the fee, but we will consider it a donation to the River Alliance and send you a receipt so it is tax deductible. If River Alliance cancels the event, you will receive a full refund. (Of course, if you want to make that payment a donation, we'd happily accept it.)